A weekend in Murrumbateman
Looking for things to do in Canberra this weekend? Why not think outside the city and plan an escape to the heart of the Canberra wine region?
With more than forty cellar doors and other businesses in the area, Murrumbateman is full of exciting experiences and mini weekend escapes.
The township of fewer than 5,000 people is only 35kms from Canberra city and an easy 3-hour drive from Sydney. Murrumbateman is known for its Cool Climate wines grown in the crisp, dry Canberra weather. With Riesling, Shiraz and several other varieties thriving here, it is a paradise for first-time tasters and wine experts alike.
If you're looking for a mid-week adventure or a stress-free weekend getaway, look no further.
We have composed an itinerary for a couple days in Murrumbateman including where to stay, what to taste and how to get around.
A stone's throw away from several Canberra Region Wineries, the Abode Hotel is a popular pick for accommodation in Murrumbateman.
In addition to 50 stylish rooms, Abode features a communal kitchen and pantry stocked with local produce; guaranteeing a chance to explore the very best Murrumbateman has to offer.
Walking distance from parks, farmers markets and the Murrumbateman town centre, Abode ensures you are kept comfortable during your escape to the country.
57 Rose St, Murrumbateman NSW 2582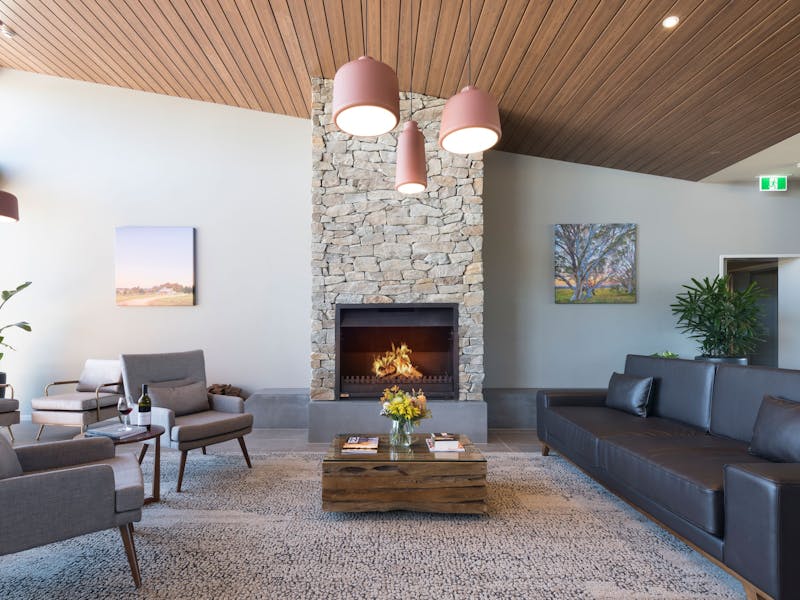 Energy efficient, leisurely and fun!
The Canberra Region E-Bikes are for anyone looking to explore Murrumbateman in the fresh air.
Their suggested winery trail conveniently starts at the bike pick-up point and takes you on an easy loop of the village while stopping at a variety of cellar doors and eateries.
The E-Bike Tours are suitable for all fitness levels and allows you to choose your own adventure as you cruise around to the locations of your picking.
Open 7 days. 9:30am to 5pm
5 Armstrong St, Murrumbateman NSW 2582
(Please note the laws surrounding alcohol consumption when riding bikes in public spaces)
Enjoy a guided wine tasting from the owners themselves. The Vintners Daughter is a superb stop for a weekend wine tour.
With undisrupted vineyard views, The Vintner's Daughter serves tastings of their boutique small-batch wines. Here you will receive a personal guided experience with an in-depth look into the wines and the journey from vine to glass.
Plus, take a look around and see if you can spot any other creatures working hard on the farm. The Vintner's Daughter is home to several animals including sheep, goats, bees, peacocks and even emus.
Open Friday to Sunday, 10am to 4pm
5 Crisps Ln, Murrumbateman NSW 2582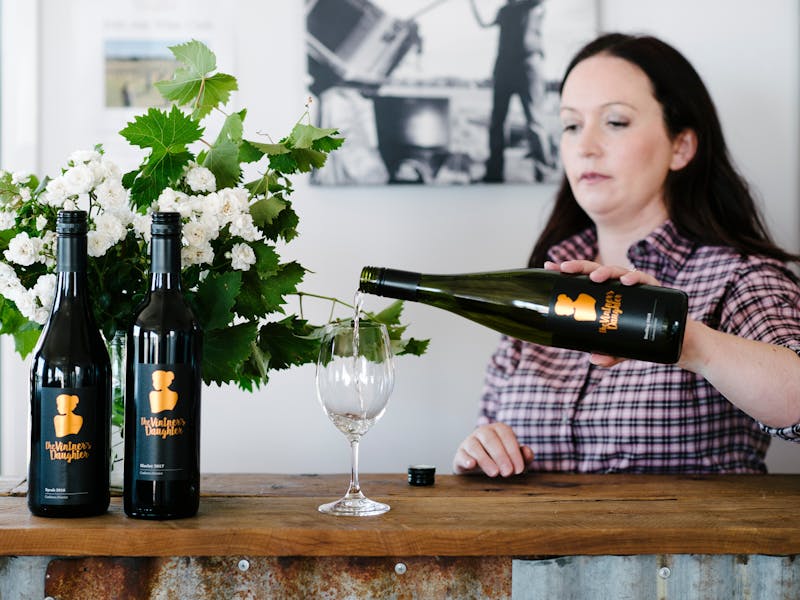 Connoisseurs visiting the Canberra region will be familiar with the name 'Clonakilla'.
Home to some of the Canberra District's first vines, Clonakilla has made a name for itself Australia-wide thanks to their flagship Shiraz Viognier.
Sit in the stylish, new Cellar Door while their knowledgeable staff guide you through an unhurried and educational tasting of the wines.
Open 7 days a week
11am to 4pm weekdays
10am to 5pm Saturday and Sunday
3 Crisps Ln, Murrumbateman NSW 2582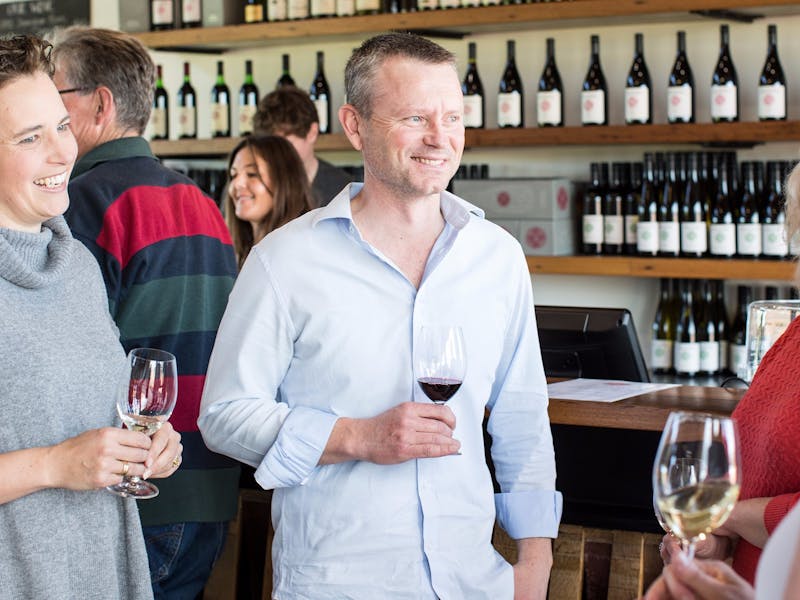 Looking to break up your winery tour? Call into Blackwattle Alpaca Farm for your fill of the cutest and cuddliest farm animals around.
Offering interactive tours, Blackwattle gives up close and personal introductions to their herd of Alpacas and Llamas for cuddles, pats and, of course, selfies.
Surrounded by picturesque mountain views and wide-open paddocks, this is the perfect place to walk for a while with your new woolly best friends beside you.
And when you are done, call into the Blackwattle Farm Shop for a souvenir made from artisan hand-dyed wool, grown and dyed on site.
Open Thursday to Sunday, 11am to 4pm
315 Patemans Ln, Murrumbateman NSW 2582
With a range of uniquely curated experiences, guests of Dionysus Winery set the pace for their tasting.
Each booking is treated with a personal touch to cater to your needs, whether that be sipping and grazing in the sculpture garden or a guided tasting with plenty of opportunity to ask your questions.
Dionysus Winery is dedicated to creating a fun and welcoming cellar door where their wines can be shared in an intimate setting.
Open Friday to Sunday, 11am to 4pm
1 Patemans Ln, Murrumbateman NSW 2582
Of course, a weekend in Murrumbateman wouldn't be complete without a visit to Four Winds Vineyard.
Open seven days a week, Four Winds Vineyard can offer you the chance to feel like you have truly escaped from it all. Among the vines, you're able to kick back and enjoy a wood-fired pizza lunch alongside a tasting of award-winning wines.
Sit either inside the cellar door built from numerous repurposed materials, or outside under the cover of a large open hayshed in the vineyard. Giving you the best of both worlds, Four Winds Vineyard is a getaway you can have all year round regardless of weather or what day of the week it is.
Open 7 days a week
11am to 4pm weekdays
11am to 5pm Saturday and Sunday
9 Patemans Lane, Murrumbateman, NSW 2582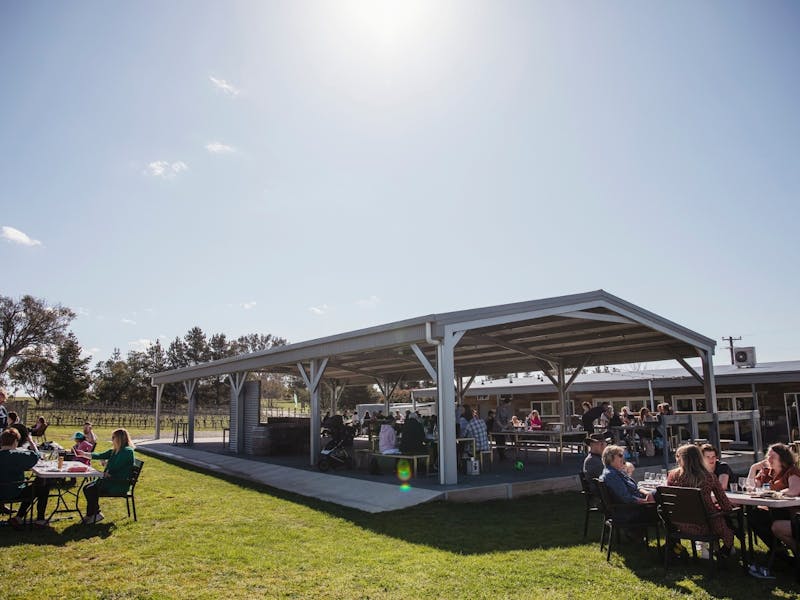 For those looking for things to do in Canberra this weekend, Murrumbateman is the perfect place to get a taste of fresh air and cool-climate wines while escaping the norm a while.
For more information, visit yassvalley.com.au or call into Four Winds Vineyard and let our team tell you all about this amazing little region we call home.
Email: hello@fourwindsvineyard.com.au
Phone: 02 6227 0189
Blog Published: 23 November 2022